Before we get into Midjourney vs Adobe Firefly comparison, let us ask you something: What's the best AI image generator tool? Some of you may say Midjourney, others Stable Diffusion, Dall-E, Leonardo AI, and some Adobe users will think of future version of Adobe Firefly.
But which is the best one? What's the difference between these tools? etc. Today, In this article, we'll discuss everything about Firefly vs. Midjourney in detail, along with images and examples generated by these tools using the same prompts.
Adobe has recently launched the beta version of Adobe Firefly, a suite of creative Generative AI tools. Once integrated into Adobe software, this comprehensive toolkit will allow users to significantly transform and enhance their creative workflows when working with programs such as Photoshop and Premiere.
Currently, only two tools have been released to the public: image generation and text generation. To access these tools, users will need to register for the beta version.
One amazing tool in this suite is the image generation tool, which will put Adobe in direct competition with Midjourney, a widely used image-based AI tool available on Discord.
Midjourney has become a major player in the world of AI-generated images due to its ability to produce visually stunning and realistic images that are captivating and artistic. With the recent release of its V5 version, the platform now boasts a range of new and exciting features. Midjourney is intended as a tool for artists to stimulate creativity or provide a starting point for new projects.
So What's the difference between Midjourney And Adobe Firefly? In this article, we will discuss the key similarities and differences between Midjourney and the two available tools within Adobe Firefly.
Adobe Firefly vs Midjourney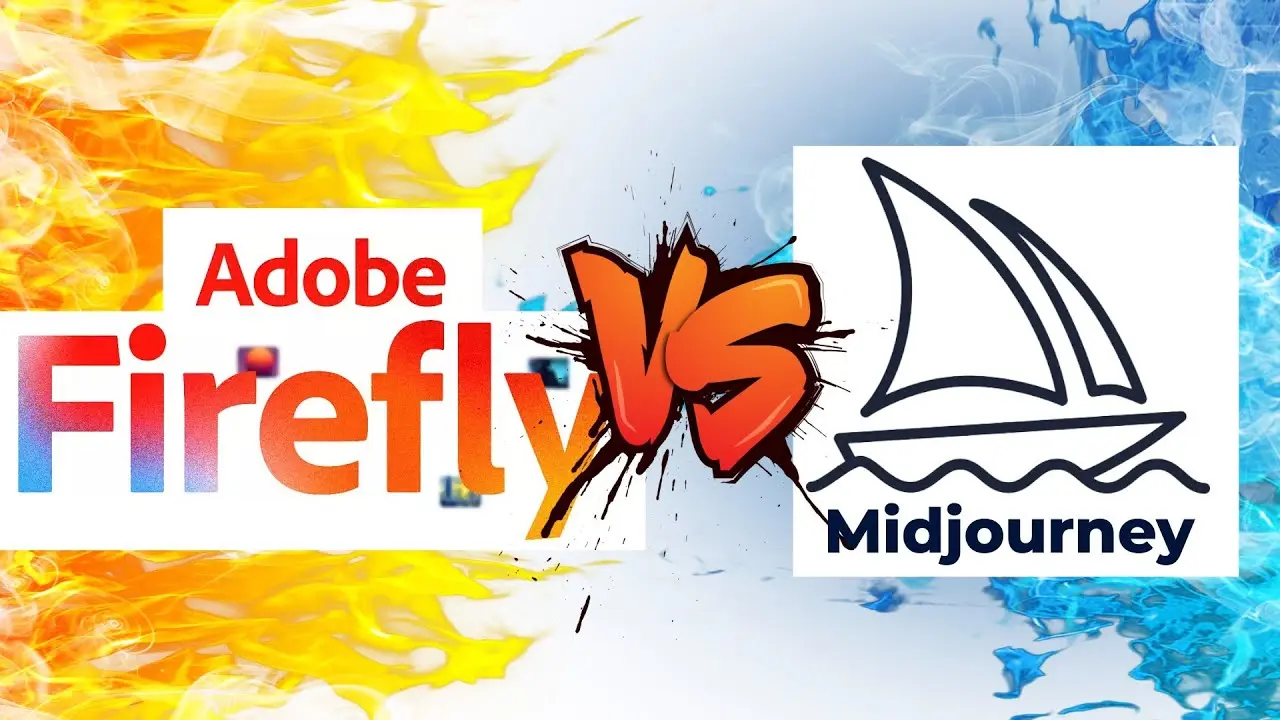 Both Midjourney and Adobe Firefly's image generators operate by generating images based on text prompts from the user. In both tools, users can add specific words to influence the image's style, genre, and content. Both can create variations based on the generated images.
The user has control over various aspects of the generated image, such as its aspect ratio, level of photorealism, and degree of abstraction.
Moreover, these generative tools are targeted toward artists who seek to use them as creative tools for generating work rather than relying on them for full-scale creation. This is evident in the extensive control and customization options available to users of both AIs.
There was a prevailing belief that Midjourney was primarily suited for generating artistic images and struggled to produce photorealistic images. However, with the release of Midjourney V5, this notion has been disproven, as the tool can now generate images that are often indistinguishable from real photographs.
Both tools are currently only available online through a web browser.
The key distinction between Adobe Firefly and Midjourney is that the image generation tool of Firefly will eventually be only one aspect of a larger toolkit. Meanwhile, Midjourney remains solely an image-generation tool. It was true till last week, but the company has also announced a new Image to text generation feature.
In the demos released by Adobe, a user is shown editing a photograph of a cabin during the summer in Premier Pro. They instruct the AI to "change the scene to winter," and in an instant, the green trees and blue skies are replaced with barren branches and falling snow.
Images Generated Using Midjourney And Adobe Firefly (With Same Prompts)
1. Red Ferrari F40 in Dandelions at the Lake Seealpsee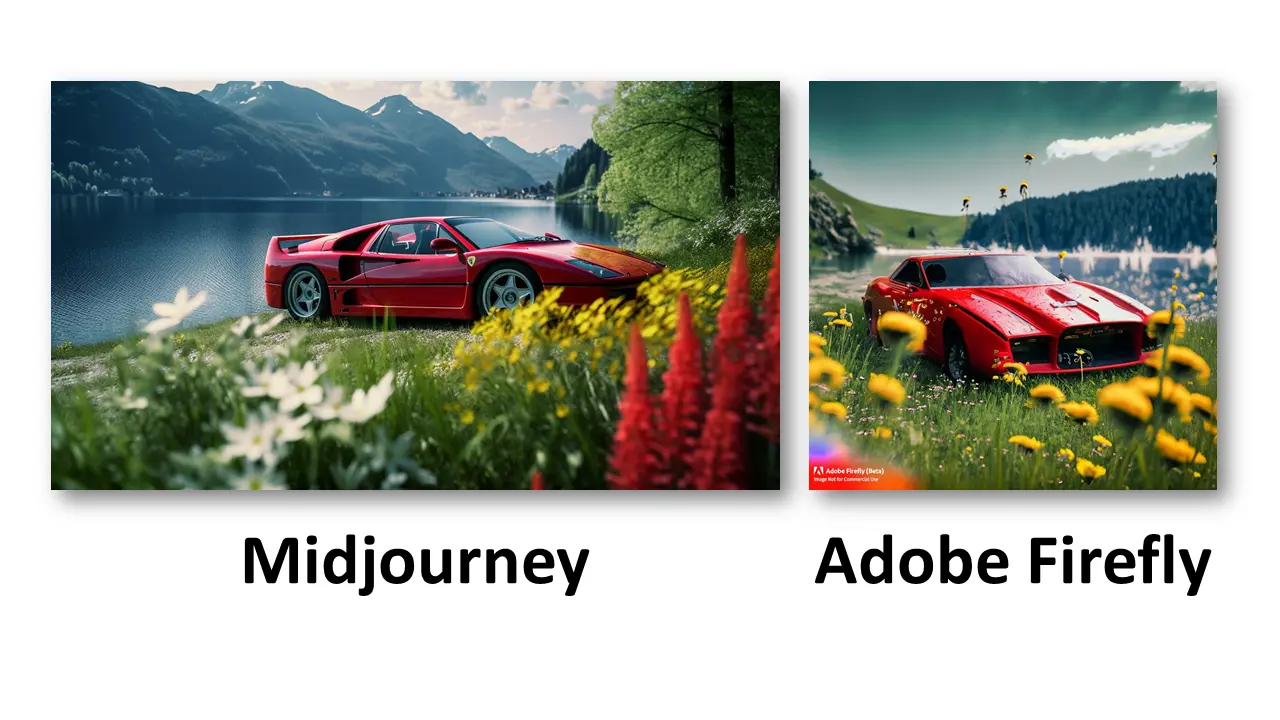 2. iOS app icon, Sci-fi planet landscape with skeuomorphic style
3. Abstract fractal circular mosaic city architecture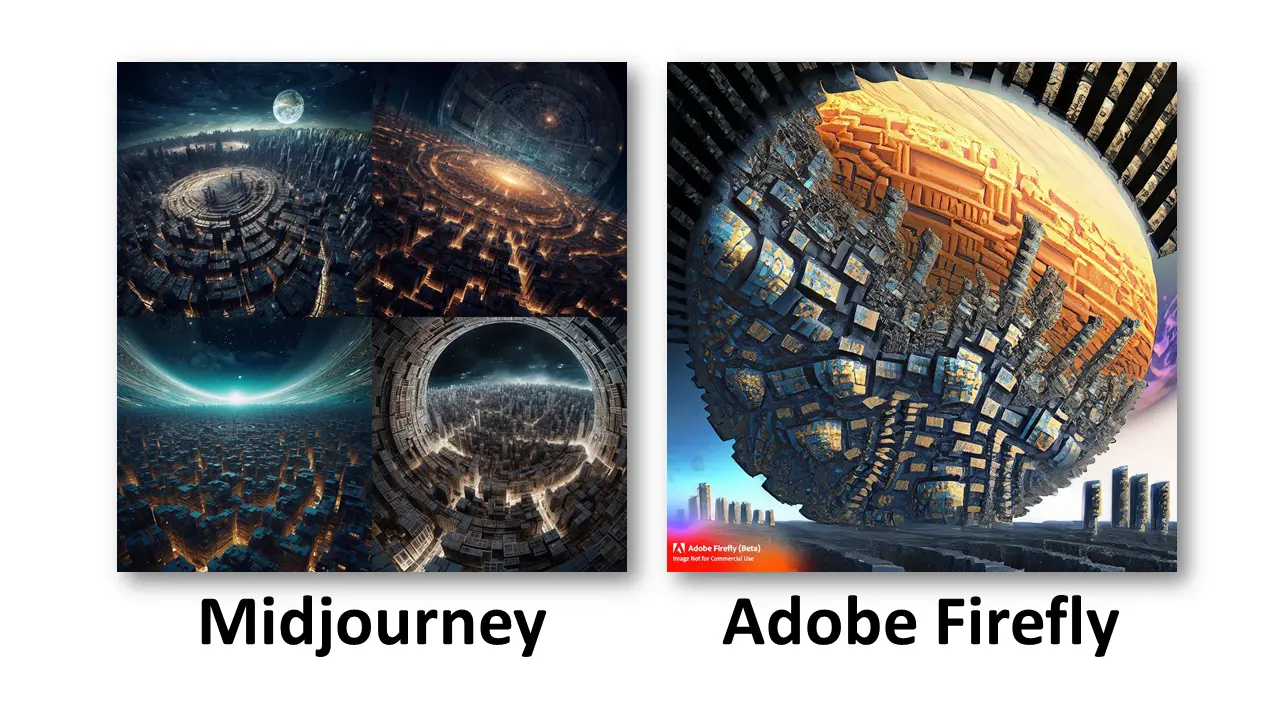 4. Deadpool posing on a car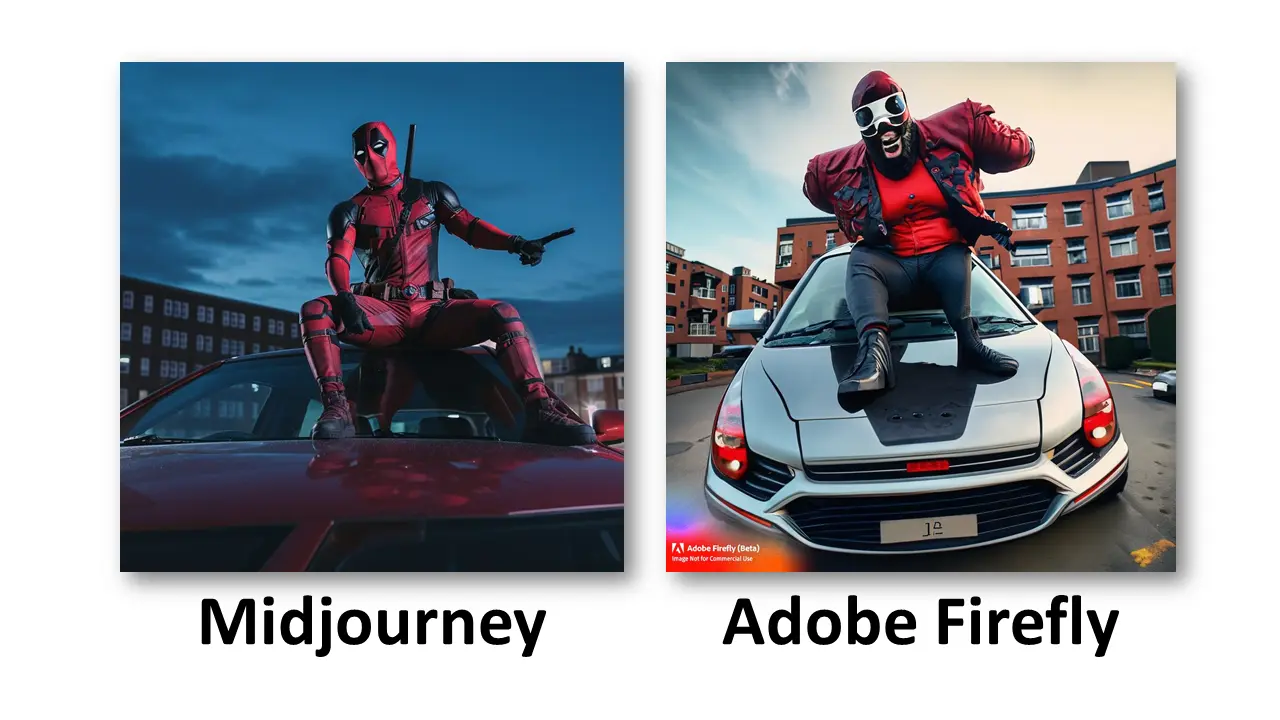 5. Super Mario in a dim lit street with a big reflection in a puddle (To avoid copyright, Pikachu in Adobe Firefly is looking different)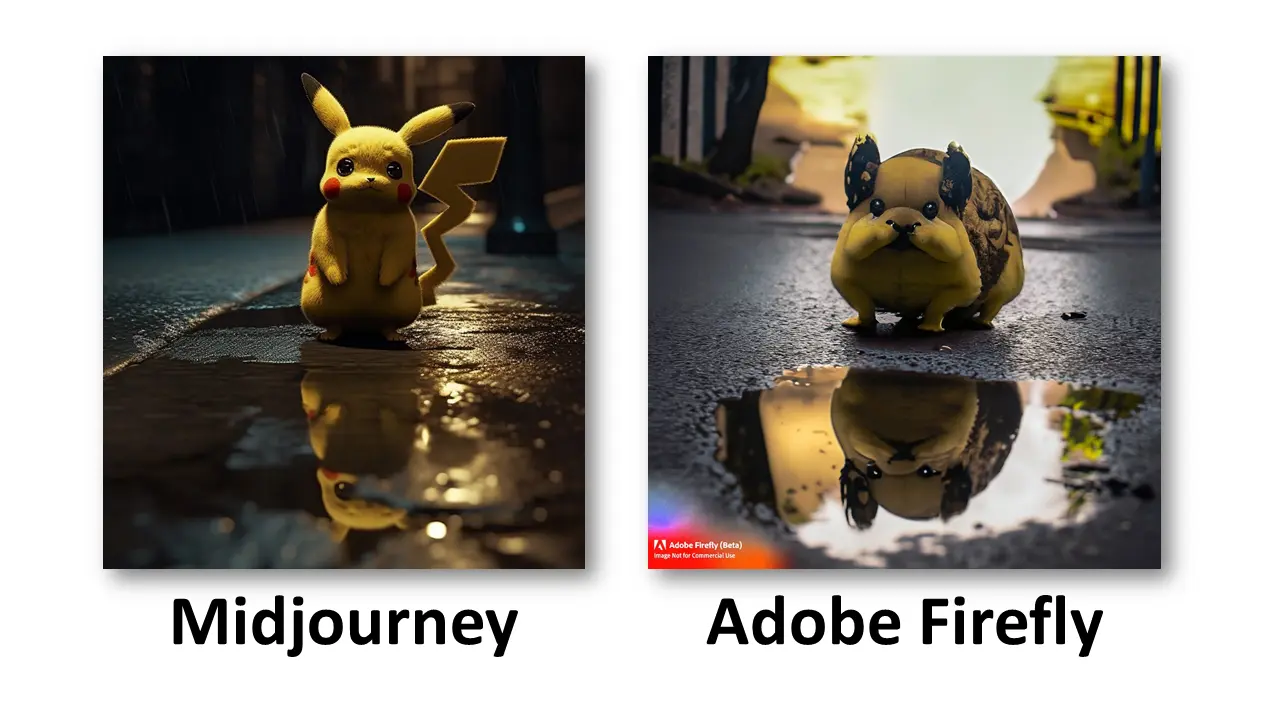 6. A stunning young Jamaican woman wearing white retrofuturistic sequin Gucci gown, standing in the desert.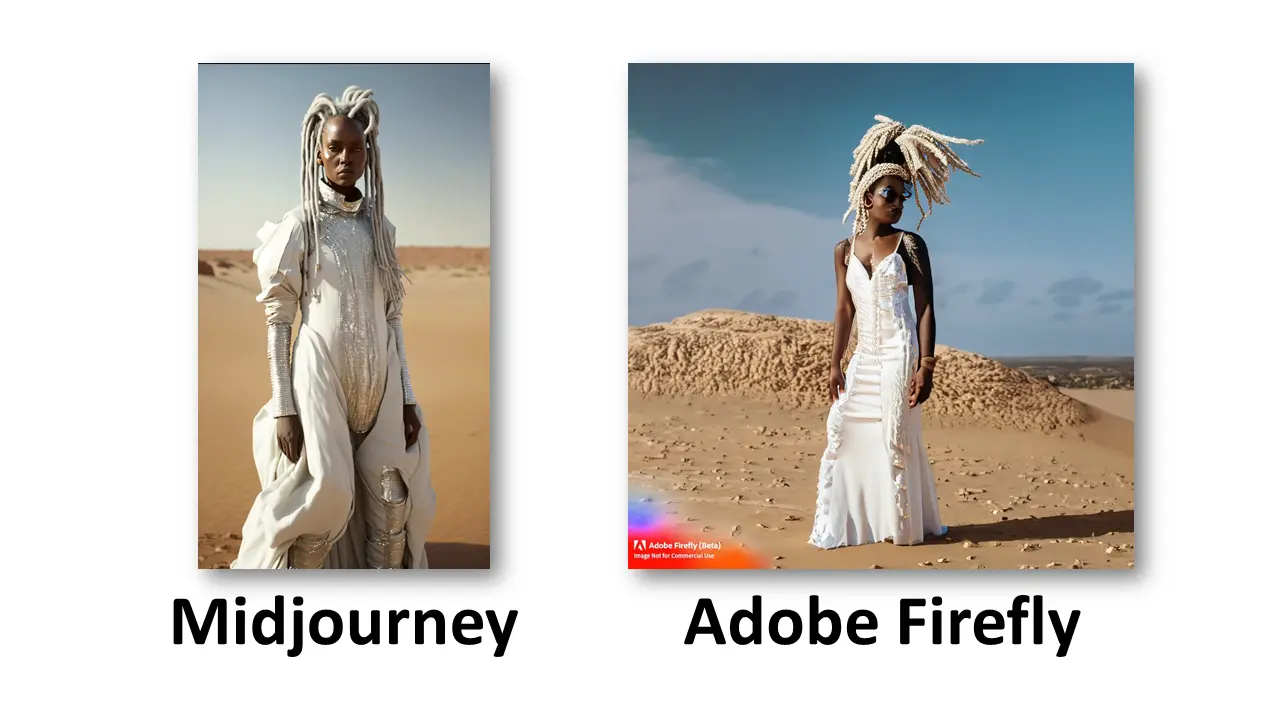 7. Photo of a large crowd of commuters in Tokyo, sharply focused faces, but it's the woman in red that commands your attention. Warm glow, elegance.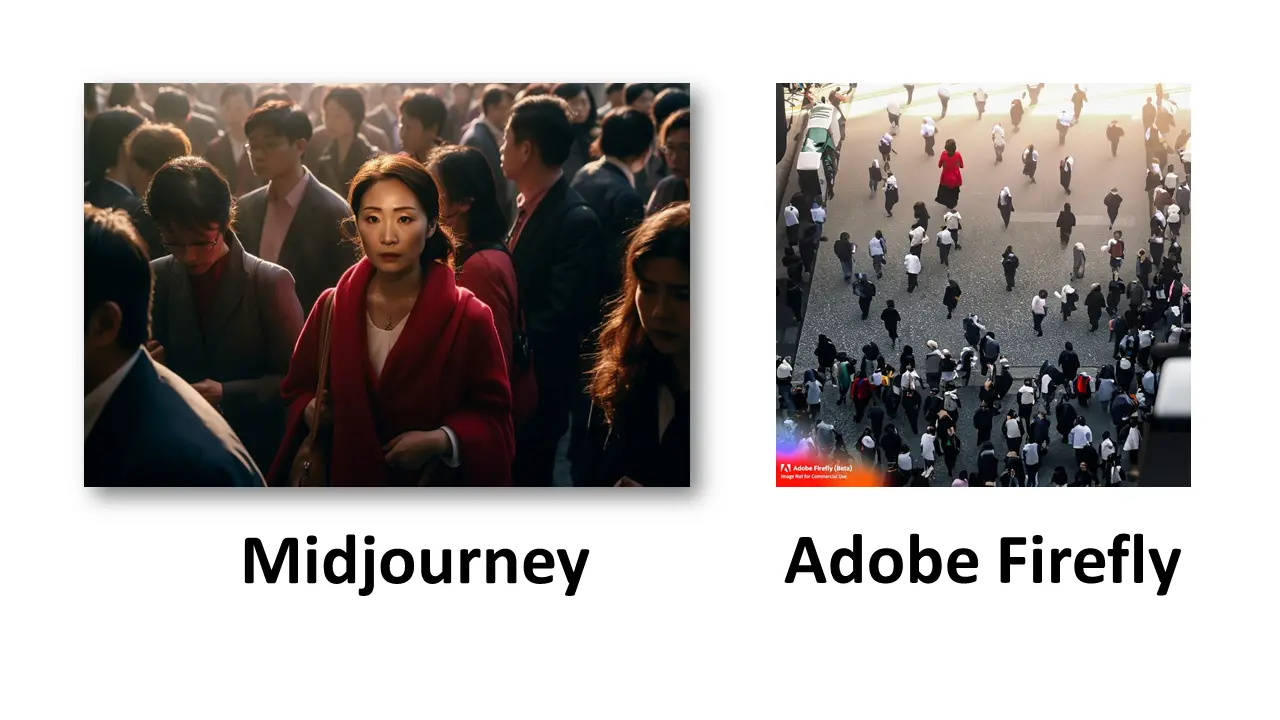 Related Stories:
Both of these AI tools are extremely powerful and have the potential to enhance and streamline creative workflows significantly. Moreover, these technologies are still in their early stages, implying that improvements will be continuously made.
Given these factors, there is currently no definitive answer about which tool is better. Depending on your particular needs and objectives for an image generation tool, one may be better suited for you than the other.
When fully developed, Adobe Firefly will seamlessly integrate with existing Adobe programs, making it a convenient choice for those who already use Adobe software. In contrast, Midjourney is currently more adept at generating images in response to user prompts, especially with the advanced settings available in Midjourney V5, which produce highly realistic images.
As for pricing, both tools are initially free to use. However, users must first be accepted into the Beta program to access Adobe Firefly. Adobe Firefly is expected to be included with other Adobe programs eventually. Midjourney offers 25 free prompt inputs, after which users will need to subscribe. The subscription fee ranges from $8 to $60 monthly, depending on the plan selected. While the pricing plans or other details for Adobe Firefly are not yet announced.
Note: All images and prompts source: Jim Fan.