Homeworkify Review: Are you struggling to find answers to your homework questions? Bored of expensive and paid options? If yes, then you must try this free tool. Homeworkify is an AI tool that allows you to access step-by-step solutions and explanations for any academic subject completely free of cost. Let's deep dive into the tool's features, pricing, alternative, demo, use cases, FAQs, and other details.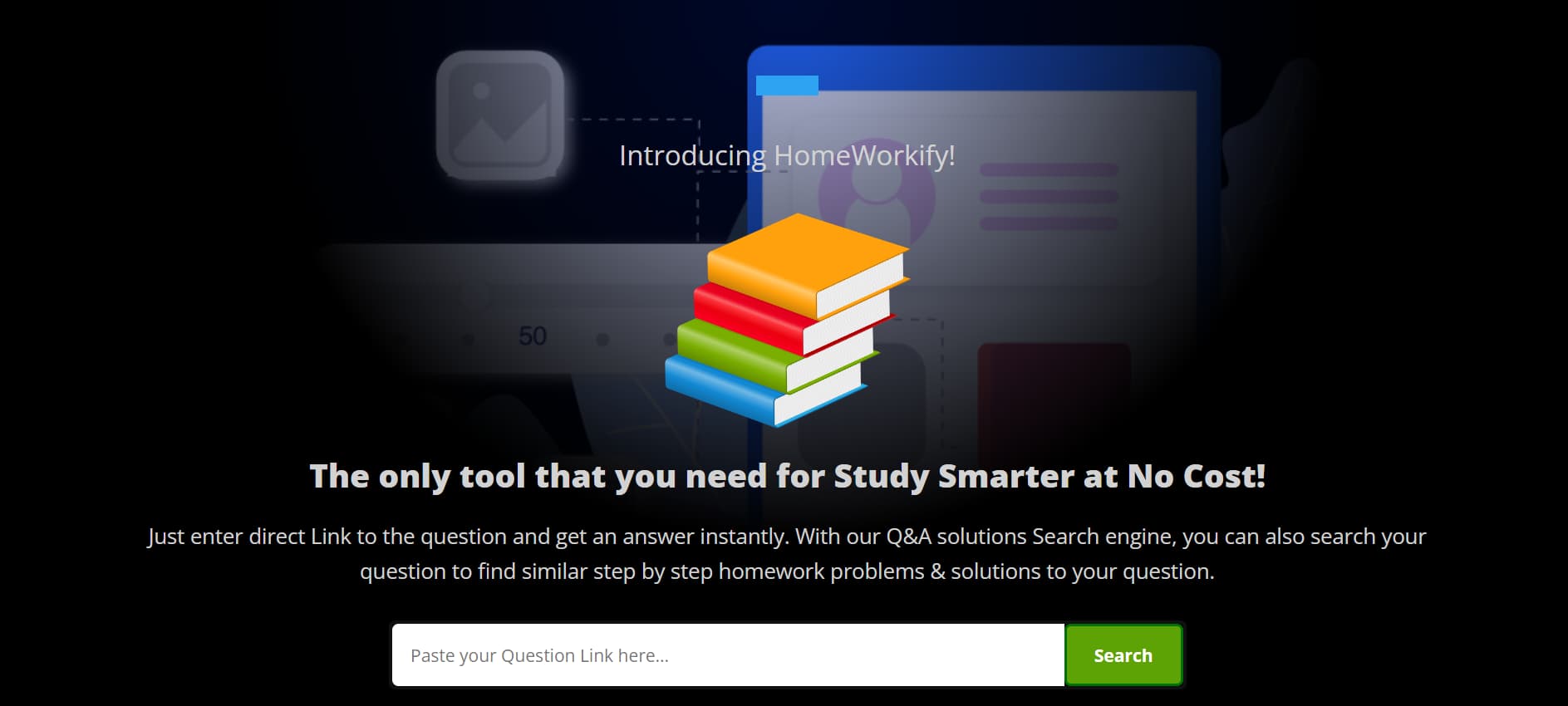 | | |
| --- | --- |
| AI Tool Name: | Homeworify |
| Category: | Best AI Education Tools |
| Features: | Homework Solver, Unblur Answers, Unlock Document links, Reveal Hidden Content, etc. |
| Cost: | Free |
| Homeworkify Free Alternative: | Chegg Answers Subreddit, Unblur StudyBlue for Course Hero, etc |
| You May Like This: | Best AI S*xting Apps And Websites |
What Is Homeworkify?
Homeworkify is a free AI tool that provides instant homework solutions. Simply enter the direct link to your question and receive answers in no time. With its Q&A search engine, you can also find step-by-step homework problems and solutions similar to your query. You can also Unblur Answers, Unlock full Answers, Unlock Document links, and more for Free.
What Are The Features Of The Homeworkify AI?
Homework Solver: Tackle challenging math problems, science questions, and more with step-by-step solutions and explanations.
Wide Subject Coverage: Access comprehensive resources for math, science, history, language proficiency tests, and more.
User-Friendly Interface: Navigate seamlessly and access features effortlessly with Homeworkify's intuitive interface.
Comprehensive Study Materials: Enhance your learning and exam preparation with a wide range of study materials.
Unblur Answers: Remove blur from answers and unlock the full content for better understanding.
Unlock Document Links: Access valuable resources by unlocking document links within Homeworkify.
Reveal Hidden Content: View the hidden text of the answer to grasp the complete context of a question.
View Blurred, Hidden Text: Reveal blur text in websites or study materials.
What Are The Use Cases Of This Tool?
Students seeking immediate help with challenging homework problems can rely on Homeworkify's step-by-step solutions.
Individuals encountering blurred or hidden answers can utilize Homeworkify to unblur content and gain a comprehensive understanding.
Exam preparation becomes more effective by accessing study materials and resources from various subjects through Homeworkify.
Language proficiency learners can find assistance in Homeworkify's extensive database of language-related questions and answers.
Unlocking document links within Homeworkify helps users access valuable resources and expand their knowledge base.
Researchers or individuals studying specific topics can reveal hidden content and gain additional insights through Homeworkify.
Accessing free homework question-and-answer resources provided by Homeworkify aids students in their learning journey.
Homeworkify Demo Video
Frequently Asked Questions On Homeworkify Site
What Is Homeworkify?
Homeworkify is an AI homework tool created to help you find the answers to your questions. It can even Reveal hidden content, View Blurred or Hidden text, Remove blur from Website text, and more for free.
How Does Homeworkify Work?
Homeworkify uses advanced AI to find the best answer for literally any topic and for any question. The AI tool can even Unblur Answers, Unlock full Answers, Unlock Document links, and more for Free.
Why Is Homeworkify Not Working?
Homeworkify Net was not working because there were some technical issues that the team has solved, and now the website is live.
Is Homeworkify Legit?
Their mission says all about them. Their mission is to provide free education for all. Unlike many other homework-help sites that require payment, Homeworkify is completely free to use. They believe that knowledge should be accessible to everyone. However, they kindly request that you use Homeworkify for educational purposes only.
Is Homeworkify Safe?
Yes, Homeworkify is a safe tool.
Is Homeworkify Down?
No, Homeworkify.Net is not down. The website is moved and redirected to another domain Homeworkify. Eu.
How To Use Homeworkify?
You can use Homeworkify to unblur Chegg, Course Hero, etc, answers, documents, and links. We have already mentioned all the use cases. You can check them out.
What's The Best Homeworkify Alternative?
The best 100% working Homeworkify alternative is Chegg / Coursehero Solutions (Discord Server).
Websites Like Homeworkify
The Best Alternatives Of Homeworkify are given below:
Way2cheggAns Viewer Chrome Extension
Chegg Answers (Reddit Community)
Chegg / Coursehero Solutions (Discord Server)
AI Tools You Must Explore