Sourcely Review: In today's fast-paced world, where information is abundant but finding relevant literature can be a daunting task, Sourcely.net emerges as a tool that utilizes advanced natural language processing techniques to simplify the process of sourcing literature, making it a valuable asset for students, researchers, and professionals alike. Want to know more? Continue reading about its features, use cases, etc.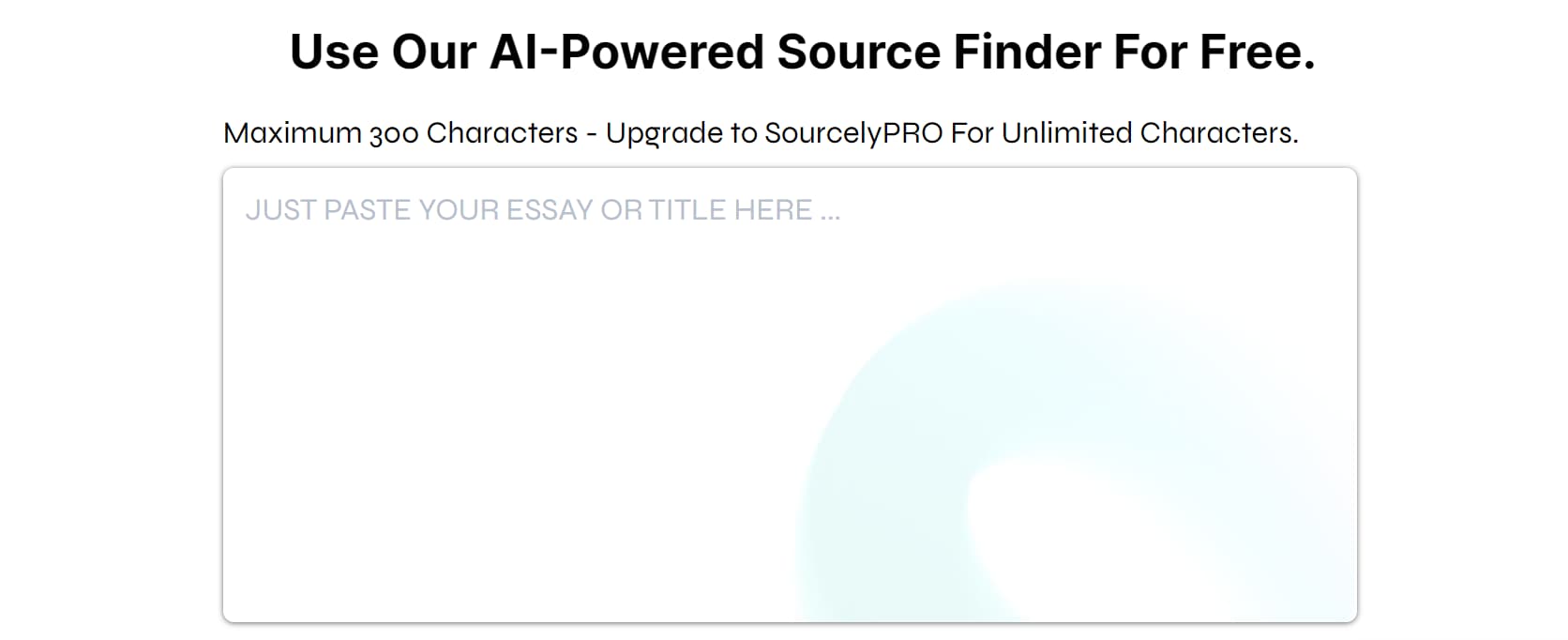 | | |
| --- | --- |
| AI Tool Name: | Sourcely.net |
| Category: | Best AI Websites |
| Features: | AI-powered Literature Sourcing, User-friendly Interface, etc |
| Cost: | Free And Paid Plans, Pricing For Paid Plans Start From $10 Monthly |
| Sourcely.net Free Alternative: | Minerva |
What Is Sourcely.net?
Sourcely.net is a free AI tool that harnesses the power of generative AI to streamline the research process. By leveraging advanced natural language processing, Sourcely.net enables users to find relevant literature quickly and effortlessly.
What Are The Features Of Sourcely.net AI Tool?
AI-powered Literature Sourcing: Sourcely.net employs advanced natural language processing techniques to retrieve relevant texts, ensuring that users can access the most appropriate and up-to-date information for their research projects.
Filtering Options: Sourcely.net provides filtering options that allow users to refine their search results based on specific criteria, such as publication year and minimum citations. This ensures that users can narrow down their results to the most relevant and reliable sources.
Pricing Options: Sourcely.net offers both free and paid plans, catering to the diverse needs of users. While the free plan provides access to essential features, paid plans starting from $10 offer additional benefits and enhanced functionality.
What Are The Use Cases Of Sourcely.net AI Tool?
Academic Research: Sourcely.net streamlines the process of finding relevant literature for academic projects and research papers. Students and researchers can save significant time and effort by utilizing this tool to access a comprehensive source of information.
Professional Research: Professionals engaged in various industries can benefit from Sourcely.net when sourcing information for projects, reports, and presentations. The tool provides a time-efficient way to gather reliable and pertinent literature.
Student Assignments: Students can rely on Sourcely.net to find relevant texts for their assignments and coursework. By utilizing this tool, they can enhance the quality and depth of their research, leading to improved academic performance.
Frequently Asked Questions On Sourcely.net
Is Sourcely.net a free tool?
Yes, Sourcely.net offers a free plan that provides access to essential features. However, there are also paid plans with additional benefits available.
Can Sourcely.net be used by non-native English speakers?
Absolutely! Sourcely.net has a user-friendly interface and is designed to be accessible to users with basic English skills.
Is the retrieved literature from Sourcely.net reliable?
Sourcely.net strives to provide users with reliable literature. However, it is always recommended to evaluate and cross-reference the retrieved sources to ensure their credibility and accuracy.
Best Sourcely.net Alternatives
Minerva
Elicit
Research PAL
OpenRead
SummarizePaper
MyReport
Genei
Talpa
AI Tools You Must Explore