RoboReply Review: Are you crushed by the task of managing Google reviews for your business? Say goodbye to the hassle with RoboReply, an AI tool designed to make review management effortless. Let's check out all the key features, uses, pricing, demo, alternatives, and FAQs of this AI tool.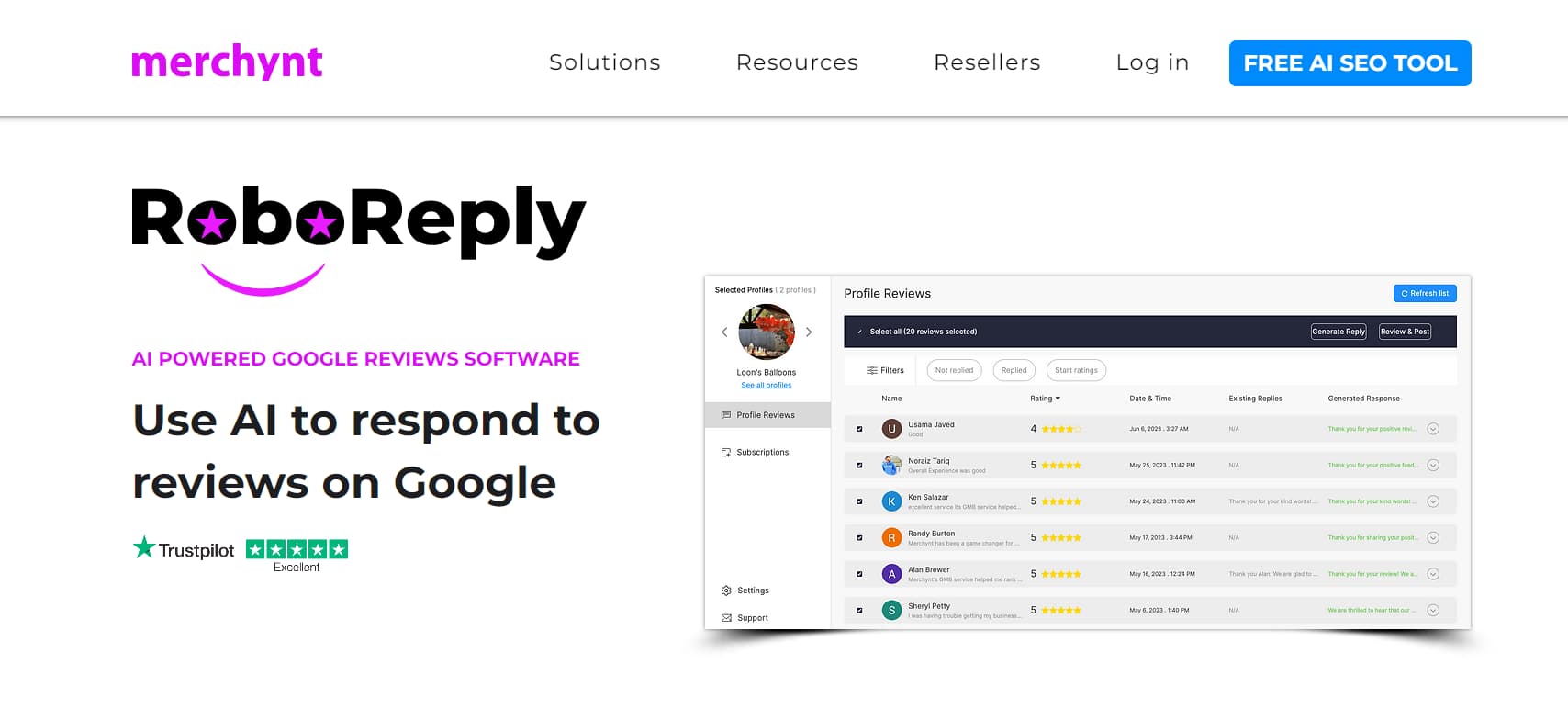 | | |
| --- | --- |
| AI Tool Name: | RoboReply |
| Category: | Best AI Startup Tools |
| Features: | AI-Powered Google Reviews Management, Multiple Account Connectivity, etc |
| Cost: | Free And Paid, Pricing For Paid Plans Start From $39 Monthly |
| RoboReply Free Alternative: | Review Hero AI |
What Is RoboReply?
RoboReply is a Google reviews managing tool. It utilizes artificial intelligence to automate the process of responding to reviews on Google. With RoboReply, you can connect multiple Google accounts, view and filter reviews, and even generate AI-generated responses.
What Are The Features Of The RoboReply AI Tool?
AI-Powered Google Reviews Management: RoboReply leverages AI technology to respond to reviews on Google automatically. By connecting your Google account(s) to the tool, you can ensure prompt and efficient replies to customer reviews.
Multiple Account Connectivity: Connect and manage multiple Google accounts with ease. RoboReply allows you to consolidate all your Google Reviews into one convenient dashboard, simplifying the review management process.
Filtering and Sorting: Customize your view by choosing specific business profiles and filtering reviews based on star ratings and other criteria. This feature enables you to focus on the reviews that matter most.
AI-Generated Responses: Review and approve AI-generated responses to reviews. RoboReply's intelligent system suggests appropriate responses, saving you time and effort. Once approved, the tool will automatically respond to all reviews on your behalf.
What Are The Use Cases Of RoboReply AI Tool?
Streamline Review Management: RoboReply simplifies the process of managing Google reviews by automating responses. It ensures that you can promptly address customer feedback, improving customer satisfaction and loyalty.
Enhance Online Reputation: By leveraging AI-generated responses, RoboReply helps you maintain a professional and consistent brand image online. The tool ensures that every review receives a thoughtful response, improving your overall online reputation.
Increase Efficiency: With RoboReply, you can save time and effort by automating the review response process. The AI-generated responses are designed to be accurate and appropriate, reducing the need for manual intervention.
Improve Customer Engagement: Timely responses to customer reviews demonstrate your commitment to customer satisfaction. RoboReply's automated responses ensure that no review goes unanswered, fostering a positive and engaging relationship with your customers.
RoboReply Demo Video
Frequently Asked Questions On RoboReply
Is RoboReply a free AI tool?
Yes, RoboReply is a freemium tool. It offers a free Chrome extension that allows you to optimize your Google business profile SEO, respond to reviews, write posts, etc., using AI.
Can I connect multiple Google accounts to RoboReply?
Yes, you can connect as many Google accounts as needed. This allows you to manage and respond to reviews from different businesses or locations seamlessly.
Can I filter and sort reviews using RoboReply?
Absolutely! RoboReply provides a filtering and sorting feature that allows you to choose which business profiles to view and filter reviews based on star ratings and other criteria.
Does RoboReply offer a Chrome extension?
Yes, RoboReply offers an AI SEO Chrome extension specifically designed for responding to reviews. It is a convenient tool for users who only need to manage a few reviews.
Best RoboReply Alternatives
ReviewWriter.AI
Review Bomb Me
Review Hero AI
Talkback AI
ReviewScout AI
Brandmate AI
MARA
RevMakeAI
AI Tools You Must Explore
TeacherToolsGPT
Protection Guard
Talpa
Datawise
SkillifyAi